about us
How did we start.
"London Hotels are expensive"
"Have you tried airbnb?" Whats that I asked? "Its people who rent out a room in their home and you get a bagel for breakfast lol...You can get a room much cheaper than an hotel and you have the bonus of being part of the hosts family for a few days". So after staying with a wonderful host in London, we did it again in Bali. When we got home we looked at our home, and as their are only the two of us plus the ducks, dogs and rabbits, we thought why not give it a try."Whats Airbnb?" words that have brought us into contact with some wonderful new friends from around the world We make furniture for a living and I had bought old wood, that was originally a Rice Barn. With some spare garden space, we set to it, and with a bit of help, well a lot of help, we rebuilt the barn into a guest room, complete with toilet, kitchen and bedroom.
We opened the room during Christmas 2013, and had our first guests stay to see in the New Year of 2014. That guest was from USA and his wife was from Thailand and the children born in Laos, and they have return to stay with us again.. With six in the family we opened up our other two bedrooms and so it began."How far is the airport?" Ahhhhhh! please read the details it will help you enjoy your stay.

Both Nok and I have been fortunate to have met people from around the world, students, surgeons, computer coders grandparents with the family and children from many countries. China, Korea, Australia, Ireland, India, Canada, USA, Singapore, Holland to name only a few. Language barriers dont seem to cause to many problems, and on occasions we have cooked together with guests sharing our Thai food with their Chinese or Italian. We all like to have our own space and we also know when a guest wants to be alone, but they know we are available to help with tours or local information.
We still take a lot of bookings via airbnb, and we like the fact we get to review the guest ;-) We have been awarded "Super Hosts" which we hope reflects the care we put into Rice Barn and Rooms.
We are not an hotel, or a resort, though many say that we are, I'm not sure we can be called guest-house. Home-stay is a word that reflects what we are, a home and your welcome to stay.., come join us. But please don't ask me "how far is the airport". Its 20 minutes away, really convenient and a Grab taxi is cheap and convenient.When we read the Guest Book it makes it all worth while, the drawings from the children or when we see the reviews (well most of them) it shows we have succeeded in making someones holiday a happy one. We don't take commission from taxi drivers, we feel that a holiday starts when you step on to a plane. We recommend our drivers because we know that you will be met at the arrivals terminal, and effortlessly transported to the Rice Barn, with a quick stop off to buy groceries at the local market. Safe polite drivers who are known to us. Some guests choose to find their own way in order to save a 100 baht, but we know that the driver will probably be telephoning us 2 or 3 times to get directions and will also charge 500 baht. Trust us, don't take a red songtel or Tuk Tuk, they are fine in the city. We want you to enjoy your stay, from arrival to departure.
The Neighborhood
Small village outside Chiang Mai, near Hangdong. A quiet and relaxing area. Ideal for those who like to be away from the busy nightlife. Close to Chiang Mai Night Safari, Hangdong Golf Club and 5 minutes walk to "The Grand Canyon" We can help and give advice on car or bike rentals, personal driver and all the wonder trips that are available here in the "Rose of the North" Chiang Mai. We interact as little or as much as the guest wants.
Alastair and Nok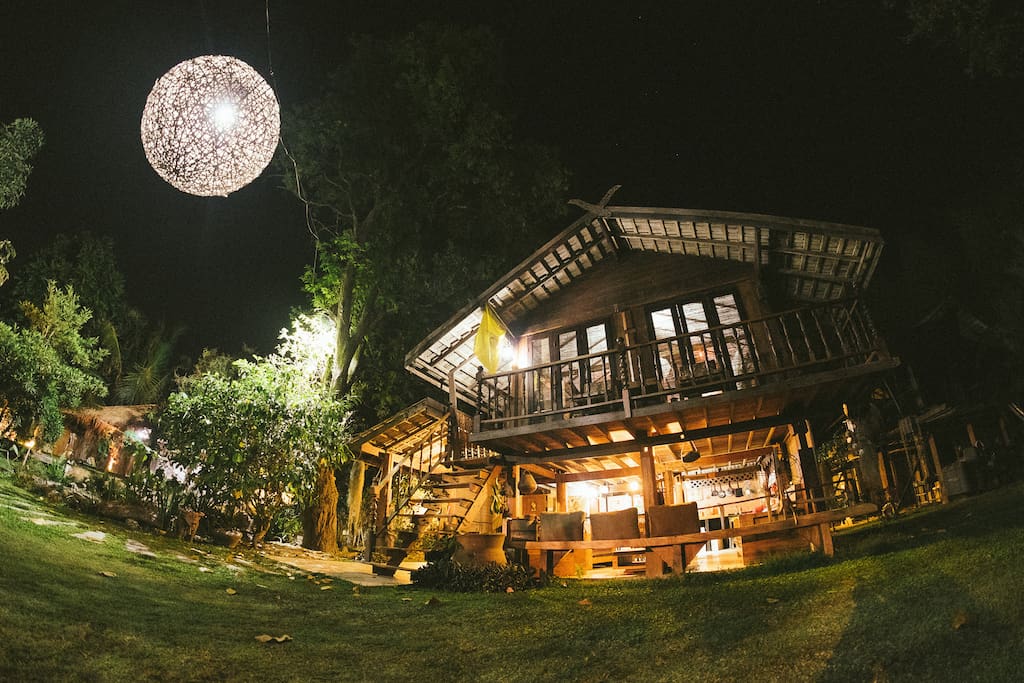 Airbnb Superhosts Al and Nok
Chiang Mai, Chiang Mai, Thailand
GREAT DISCOUNTS ON LONGER STAYS . Ever wanted to stay in a Teak House? Beautiful converted Ricebarn near Chiang Mai and close to "The Grand Canyon". Self contained houses, kitchen, dining area and r...